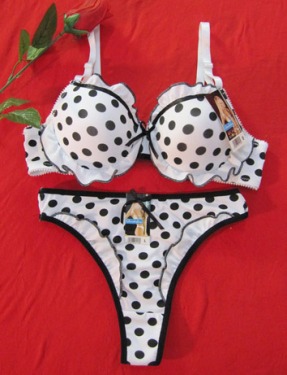 According to the 2009-2012 China Underwear Market Investment Analysis and Forecast Report, China's underwear market has annual sales of more than 100 billion yuan, and is growing at an annual rate of nearly 20%, becoming the fastest growing region in the global underwear industry. one. There are more than 3,000 companies producing underwear in China, and Shandong, Zhejiang, and Guangdong have become bases for underwear processing.
Teenage underwear market status

Speaking of girl's underwear, people always use words such as "pink, bows, floral patterns, shoulder straps can be exposed, and foreign beauty inside show" to describe. In these words, decorativeness exceeds functionality. In fact, with the advancement of modern women's maturity, it is the first condition for adolescent girls in their teens who are in a period of puberty to develop comfortable bras that fit the size of their breasts, rather than adding a lot of decorative elements to the market today. The adult reference girl's underwear.
After the author's observation in major shopping malls and roadside shops, it was found that if you want to buy a suitable non-reference adult standard production girl bra, you can only buy a lot of brand goods at a big price. At present, the young girls who enter the teenage underwear market are all developed and researched by large companies with high reputation and strong financial strength. In the current promotion on the market, the target consumer group is actually an adult woman who is between 20 and 30 years old, who prefers the "Kawaii" style and who is willing to save money.
With the escalation of people's consumption, more and more women not only pay attention to the decorative nature of underwear, but instead pay more attention to their own health to choose the right underwear, especially for the girls group, mothers have more choice criteria.
Teenage underwear is still in the stage of development, there is no strong brand, and all suppliers have opportunities for development. At the same time, as the female matures ahead of time, the teenage underwear market has a huge capacity.
Large market growth

In 2010, the sales volume of the Chinese women's underwear market was about 40 billion yuan, of which the share of adolescent girls' underwear accounted for a negligible amount. Young underwear brand is the trend of market segmentation. According to statistics, only domestic adolescent girls underwear products have a market consumption potential of nearly 15 billion yuan.
At the 6th Shenzhen Lingerie Exhibition that just passed this year, a number of brands appeared in people's eyes and aimed at the blank market for girls underwear. The person in charge of these brands said that young underwear will open up a blue ocean in the future, compared to the highly competitive Mature lingerie brand.
The author believes that for the newly introduced girls underwear decals, you can first promote the e-commerce platform, using colorful and diverse products to attract the attention of young girls; of course, for the brand suppliers already have a fixed sales channel, you need Doing more promotion in each major store, intensifying market operations, and increasing brand influence, thus expanding market share.
Today's 85th and 90th have become the main force of today's consumers, and their spending power has increased dramatically. Only the products that meet their needs have fast-selling capabilities; only brands that follow the trend and have innovative marketing models have sustained development. potential. Girl lingerie market is such a fertile ground, so that the major suppliers compete to open flowers.
Gold Color Round Ring,Metal Round Ring,Round Ring For Bag
Zipper Accessories Co., Ltd. , http://www.fjzipper.com