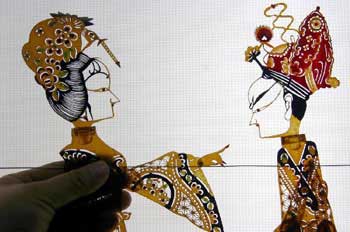 In the second traditional arts and crafts exhibition in Anhui Province that ended on December 9th, the Yujia Shadow Theater in Handan City won the first prize for good results. As the 2008 intangible cultural heritage of Anhui Province, Yujia Shadow Play, the successor Yu Qihua has devoted himself to the study of shadow play for many years and has given this ancient art a new life.
On December 10th, the reporter saw two award-winning shadow-shadows in the home of Yu Qihua, all of which belong to the "Kongdong Moying" series. The archetype is the "Long San Jie" and "Jun Xiu Lian" created by the older generation Shadow Shadow people. The cortex was thin, colorful and vivid. It was especially beautiful under the backlight.
Yu Qihua said that the contest was the highest-level event in the province and he was invited as a master of arts and crafts. In order to come up with a decent work, after more than two months of preparation, the creation of the works of "Long San Jie" combined The characteristics of modern women's beauty make the form more beautiful, and eventually won the first prize.
What is even more exasperating is that "shadows change their faces." Yu Qihua said that as the old people's ancestral shadow plays, there are few new things in the shadow play. Two years ago, the Sichuan Opera was a very popular face, and why wouldn't the characters in the shadow play want to change face? So in the traditional shadow play "change" skills in the creation of "face change", that is, in the face of the figures to carry out multi-layer skills. "The show has changed its face and the audience has been amazed. Several merchants invited me to perform."
"The art of shadow-shadows is gradually changing from seeing shows to collecting shadow props." Yu Qihua said that when his grandfather and shadow play play, there are few entertainment programs for the people, and shadow plays are mainly for watching. Nowadays, a variety of programs have emerged endlessly, and the shadow show performance has completely disappeared from the market, but the shadow art production is loved by people as a unique art. There are dozens of processes from leatherworking, drawing, and sculpture, and it is a special category of art.
"In 2011, the shadow play was selected by UNESCO as a non-material cultural heritage in the world, which gave me more confidence." Yu Qihua said that he is setting up a Yujia Shadow Theater Exhibition Center with an industrial development center, a cultural communication center, and an art performance center. Let more people know about shadow play. He also hopes that more young people will learn this skill. If possible, he hopes to teach at several colleges and universities in Handan so that this traditional technique can be inherited and the shadow play can be seen in the world.
An innovative scientific and technological enterprise integrating design and development of shoe materials (soles), mold manufacturing, shoe materials (soles) production and marketing services; the company's technical research and development team, composed of more than ten masters, doctors and experts, has strong research and development technical force, and currently has dozens of rubber and plastic new material invention patent technology and utility model patent technology. With China leather and shoemaking industry research institute, we have jointly established "rubber shoe material research institute" and "zhidahang new material international research and development center". With "comfort, fashion and environmental protection" as the core consumption elements, the rubber leisure sole researched, designed and produced by the company has become the first choice of many leisure Shoes brands and enterprises in China, and is highly praised and welcomed by customers and consumers in the industry. The products have always led the trend, fashion and direction of domestic leisure shoes market. Cooperate closely with many famous shoes brands at home and abroad;
Shoe Sole,Bottom Of Shoe,Soles Of Shoes,White Sole Shoes
Jieyang City Shuangcong Plastic Products Co.,Ltd , https://www.jyshuangcong.com